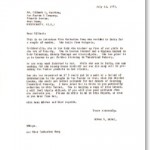 Dear Gilbert,
This is to introduce Miss Katherine Kong who resided in India for a couple of months. She hails from Malaysia.
Incidentally, she is the lady who trained up five of our girls in the Art of Make – Up. She is London trained and a Diploma Holder in Hair Colouring, Beauty Therapy and Electroysis. She has plans to go to London to get further training in Theatrical Make – Up.
We are very indebted to her. WHile she was in India, she was working for the Beauty SHAPE-UP and she did very well in promoting Max Factor products to her clients.
Now she has requested me if I could put in a word or a letter of introduction to the people in Max Factor so that, when she reaches London, she could get better quidance for her desire of learning Theatrical Make-Up. I have asked her to write to you personally referring to this letter. She is holding a copy of this letter. I will feel highly obliged, if you will give your guidance when she contacts you. Please do write to me in this regard, as soon as you hear from her.
With best wishes and kind regards,
Yours sincerely,
Kumar S. Desai